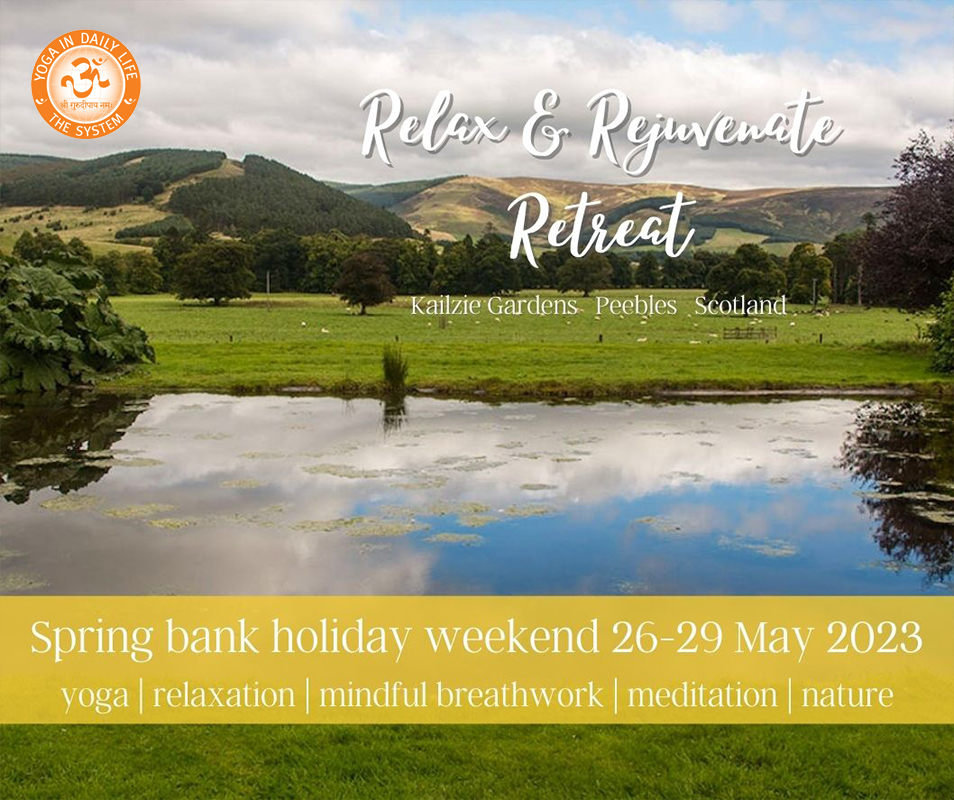 'Relax & Rejuvenate' 3-night Yoga & Meditation Retreat

– immerse in the beauty of nature to relax and rejuvenate your energy.

Our Retreat Venue: This residential retreat is located in the beautiful Kailzie Gardens estate in the heart of the Tweed River Valley, in the Scottish Borders, just 25 miles south of Edinburgh.
It offers you the chance to have some space and silence, as well as healthy exercise, nourishing food and good company, to recover your energy and equilibrium after the past few years of social and personal upheaval.
Program: With yoga and meditation in the lovely pondside practice hall, warmed by a cosy woodfire, we'll practise gentle restorative techniques to release tensions, replenish energy and regain a sense of balance and harmony.
Surrounded by the fresh air of the countryside, we'll spend time learning more about the breath and practising gentle yet profound breathwork and pranayama techniques which have helped people cope with and overcome anxiety, panic attacks, depression, and other symptoms of stress and trauma from recent events or long ago.
As well as the formal walled garden, the Kailzie Estate includes a woodland and babbling brook (or burn in Scots), plus fields of sheep and wonderful views of the Glentress Forest across the Tweed River and the Cardrona Forest on the doorstep of our accommodation lodge. We will have plenty of time to explore the surroundings as a group and solo, and silent mindful meditation walks will be included in the program.
Includes: gentle, restorative yoga asanas, pranayama & breathwork training, yoga nidra deep relaxation, meditation, mantra chanting, philosophy/lifestyle discussions, healthy plant-based meals, walks in nature, inspirational book library and free time for yourself...
Accommodation is in the newly renovated Kailzie Big Lodge, with comfortable shared rooms with ensuites and several shared bathrooms: three twin bunk rooms with ensuites on the ground floor for up to 2 guests in each; and two large loft rooms for up to 4 guests in each. There may be limited single occupancy available for an additional fee. All bedding and towels are supplied. The Lodge also has a large kitchen and large dining room, plus a lounge where we will have our morning meditations and peaceful evening sessions.

£360 | £300 concession. (incl. 3 nights accomm. + all vegetarian meals)
DATES
Spring Bank Holiday Weekend | Friday 26 - Monday 29 May 2023
TIMES
Friday 6pm – Monday 3pm; arrival and departure times can be flexible, please discuss with the organiser (Ganga) if you need to arrive or depart earlier/later: 07903 124176.
VENUE
Kailzie Gardens | Peebles | EH45 9HT | Scotland
QUESTIONS
Contact teacher and retreat co-ordinator Ganga,
This email address is being protected from spambots. You need JavaScript enabled to view it.
| 07903 124176 (WhatsApp/phone/SMS).
*maximum 12 participants | book now to avoid disappointment*
BOOKINGS
To reserve your place:
email

This email address is being protected from spambots. You need JavaScript enabled to view it.

with the following details: your full name, mobile number, email address, home town/city, male or female, amount to pay, chosen payment method (see OPTIONS below).
pay a £60 non-refundable deposit or the full fees.

confirm via email or text 07903124176 that you have paid.
receive confirmation email from us.
OPTION 1: Pay the balance before 12 May 2023.
OPTION 2: Pay the balance by instalments with 3 x monthly standing orders of £100, or £80 concession; due 12 April, 12 May and 12 June.

OPTION 3: Pay with a debit/credit card or PayPal account (+ small additional transfer fee)
BANK TRANSFER DETAILS
Account: Yoga in Daily Life Scotland | 08-92-99 | 65874873 (Co-operative Bank)
use bank reference 'MayRetreat' and your surname.
Please email us at This email address is being protected from spambots. You need JavaScript enabled to view it. to notify payment.