We are happy to announce our Online Yoga Classes Timetable whilst the Ashram is closed to comply with UK social distancing directives.
---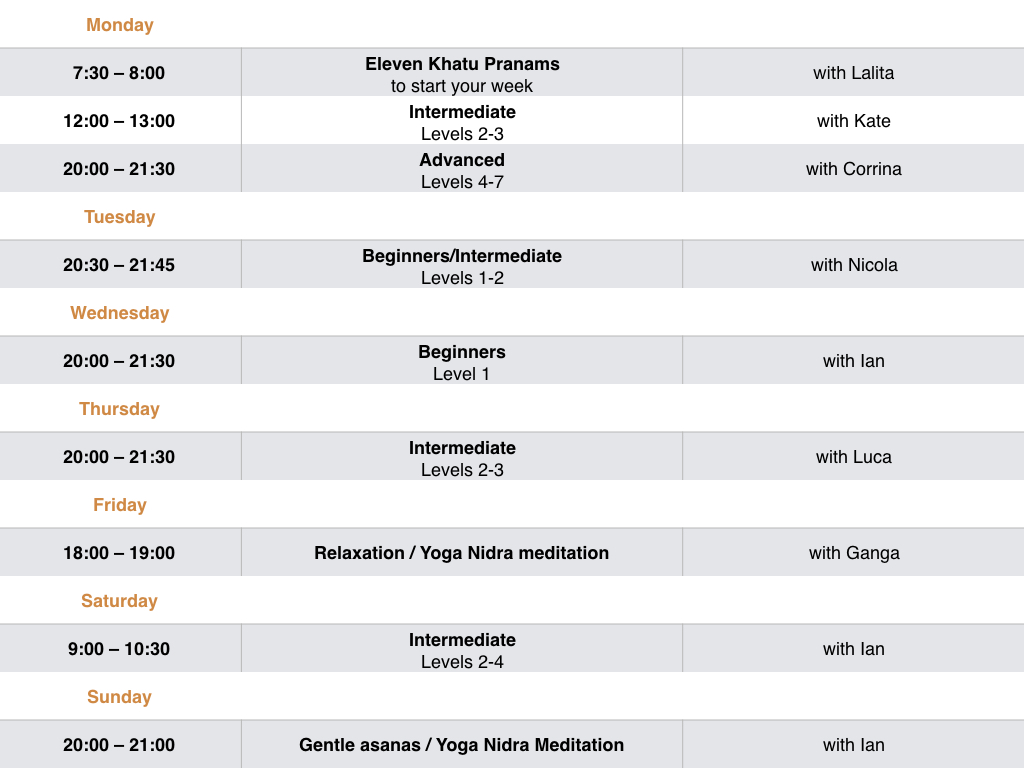 Welcome
...to our online YOGA IN DAILY LIFE™ classes via the Zoom video-conferencing platform.
How do I join in?
To make your online access easier, you can either download the free Zoom app on your laptop, tablet or PC (using a mobile phone is not so practical for being able to see the teacher) or create a free Zoom login account on their website.
Join our special Online Yoga

This email address is being protected from spambots. You need JavaScript enabled to view it.

to receive the pre-registration links for each class via an invitation email.
Click on the link for each class in your invitation email to enter your registration details in Zoom (new students will also receive a Health Questionnaire to complete before attending class).
Receive a confirmation email from Zoom, which contains the actual class/meeting link.
10 minutes before class, click on the class link in your confirmation email or enter the Meeting ID and password in your Zoom app.
Enjoy your class!
---
Fees
Our online yoga classes are being offered for free in case you are experiencing financial hardship at this time.
If you've had to cancel your Class Membership standing order, we completely understand and want you to know that you are most welcome to attend these online classes.

However, many of you have asked how you can support our charity during these lockdown days of less income – thank you so much – we are really grateful and invite you to do so through various ways:
If you have a standing order, you may choose to maintain it throughout this period and keep it going once we reopen the centre. This is deeply appreciated by us all, thank you.
You could set up a monthly standing order if you don't have one. Please

This email address is being protected from spambots. You need JavaScript enabled to view it.

and we will help you with that.
Donate to our bank account (Ref: 'donation') – Yoga in Daily Life Association UK | Co-operative Bank | 08-92-99 | 6507 9209
But remember, we are offering classes for free, so we do ask you to consider if you can afford it right now, or indeed if your donations may be more valuable elsewhere at the moment, eg. health worker support, local foodbanks, homeless shelters, elderly/vulnerable neighbours, crisis charities, etc.
And again, to those of you currently working for the NHS, other health/care services and other essential industries which are keeping society functioning and fed -> a very big THANK YOU from us.
---
+44 (0)20 7328 7163
---
This email address is being protected from spambots. You need JavaScript enabled to view it.