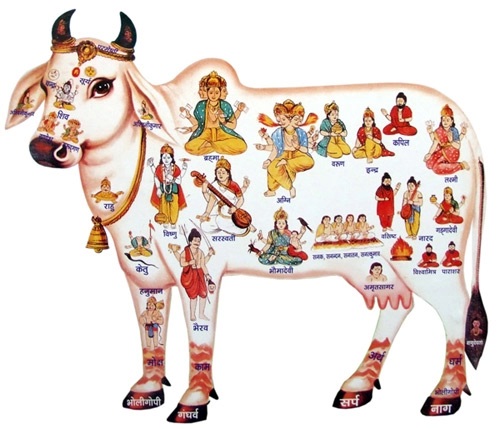 2023 WALL CALENDAR | Gaushala Animal Refuge



Om Shree Deveshwar Mahadev Gaushala
The desert region of Rajasthan is a harsh environment to live in and the frequent droughts are particularly hard on those cattle set free by villagers who can no longer afford to feed them.
With that in mind, the Yoga in Daily Life OM Ashram established an animal refuge called Om Shree Deveshwar Mahadev Gaushala, to provide a safe home and veterinary care for old, sick and homeless animals.
The work of rescuing and caring for these gentle creatures grows every year and 2022 was a particularly challenging and rather devastating year, with millions of cows all over India falling ill and dying from the black fungus epidemic.
Sadly, this included many of the cows being cared for in the Gaushalas. However, many were able to be saved, thanks to expert care and generous donations sent from around the world at the time.
Under the umbrella of Om Ashram and Om Shree Deveshwar Mahadev Gaushala, there are now five gaushalas in Rajasthan, in or near the villages of Jadan, Gaguda, Kailash, Bari Khatu and Rupawas, where more than 800 cows are protected from hunger, diseases and certain death in slaughterhouses.
All proceeds from these calendars will go to support the Gaushala project, so they can continue to provide food, shelter and medical care for these beautiful sacred cows.
---
DETAILS
A4 size, printed on chlorine-free 'Bio-Top' card, wire spiral bound and designed to hang on a nail or hook.
Includes common international holidays, YIDL lineage significant dates, Celtic seasonal festivals, traditional Indian festivals, plus full & new moons.
Available for posting or collection in Edinburgh or London from 19 November 2022.
PRICES
1 piece: £12 (+ p&p: £2)
5 pieces: £50 (+ p&p: £5)
10 pieces: £100 (+ p&p: £5)
Add postage and packaging for posting via Royal Mail, or This email address is being protected from spambots. You need JavaScript enabled to view it. to collect in person in Edinburgh or London.
Pay by Bank Transfer:
Yoga in Daily Life Scotland | 08-92-99 | 65874873 (Co-operative Bank)
please use the bank reference: 'wallcalendars'
or order with the PayPal buttons below:
---
This email address is being protected from spambots. You need JavaScript enabled to view it.