8-week Level 2 Course

DATES
Tuesday evenings | 29 January - 19 March 2019 | 6.30-8.30pm
VENUE
Mahaprabhu Deep Ashram | 2 Montgomery Street Lane | Edinburgh | EH7 5JT
FEES
£80 | £65 concession/students
Plus unlimited drop-in classes during Course: extra £20
FREE for those on Monthly Standing Order (unlimited classes; min. 6 month commitment required)
Please BOOK in advance with payment - contact us first to check availability.
BOOKINGS ESSENTIAL (max 10 places)
This email address is being protected from spambots. You need JavaScript enabled to view it. | 0131 629 9895 | 07903 124176
Each class includes: relaxation, asanas (postures), pranayama (breath techniques), meditation, and a different theme each week focusing on practical yoga principles relevant to living a healthy life, with printed handouts to take home.
This Course is for those who have attended the Yoga in Daily Life Level 1 Course and/or Drop-in classes for at least 6 months and feel ready for deeper yoga and meditation practice from the system Yoga in Daily Life.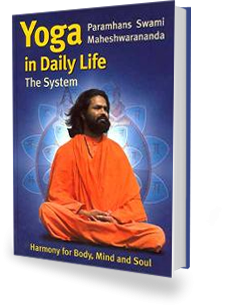 The Yoga in Daily Life - the System book is an excellent manual to accompany this practice and is available at a special discount for those joining the Course: just £25


---